Reusable Wave Top or Soft Loop Handle Bags
See a slide show of all the reusable bags we've created.
New! Reusable Retail Bags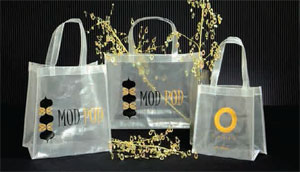 Reusable bags are not just for groceries any more. DM Packaging now offers classy reusable bags for the finest retail outlets. We can supply a wide variety of colors, sizes, handles, styles and finishes. Give us a call now at 800-890-7056 (Toll Free) or 281-859-4933 in Houston to learn more.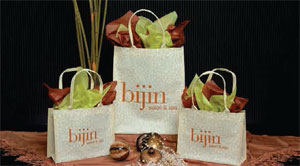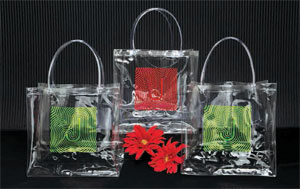 100% Recyclable / Reusable Bags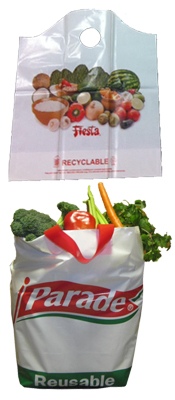 Looking for an eco-friendly alternative to paper and plastic bags? Looking for a safe, lead free alternative to non-woven bags? DM Packaging has your solution: recyclable, reusable and environmentally friendly soft loop handle bags.
Custom Wave Top (Fiesta bag)
4 mil top, 2.5 mil body
17 x 15 x 7
250 per case, 56 cases per pallet
Minimum order 75,000
Custom Soft Loop Handle (Parade bag)
4 mil
18 x 16 x 8
200 per case, 56 cases per pallet
Minimum order 15,000
These durable polyethylene bags hold 20 to 25 lbs. and are reusable for approximately 100 uses. These reusable bags are made in the United States and printed with water based ink. There is no fear of lead-based ink or pigment in these bags.

New! Reusable Bag Racking Solution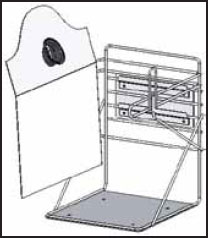 Why not order the reusable bag and the rack solution at the same time? DM Packaging can help. We have a full line of patented dispensing options.
Bags are spool loaded right out of the box
Easy opening
Stays open while sackers load bags
Clean and uniform look for registers
Reusable Bag Racking Solution PDF (363 kb)



>>> Click on the first image to start the slide show. Hover over bag to see 'Next' button. <<<





















* Note: This new reusable bag is a replacement to the nonwoven bag previously sold to food-related industries. According to a recent news story like that found in USA Today, lead found in some reusable grocery bags is raising concerns that the toxin could pose environmental or health concerns to consumers.



See DM Packaging's Full Line of Green,
Environmentally Friendly Bags and Packaging Products.

Related Products: